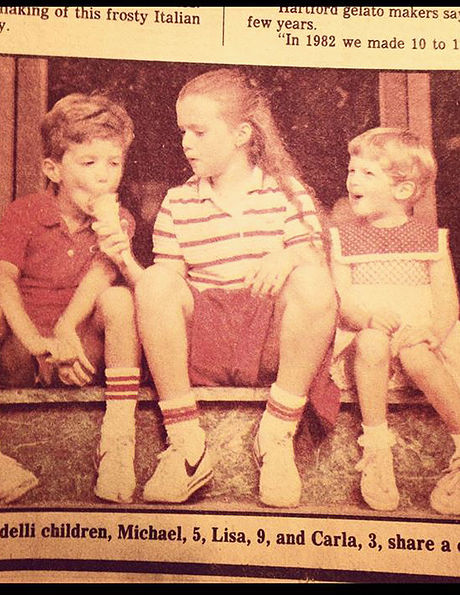 Our Sweet Story
Three Generations in the Making
---
Long wood topped tables covered in flour & sheet pans of amaretti cookies lined the room. The light shone through the windows and caught the clouds of powdered sugar as they burst and fluttered down gently. Our grandfather in his bakers whites folded dough around wooden dowels to make cannoli shells. We ran through the rooms of the bakery, used the rolling sheet racks in relay races and slid down the metal ramp where the bags of flour are sent to the basement. We were chased by our grandmother trying to feed us as we played.
Growing up in a pastry shop was our sweetest reward. Our grandparents immigrated from Italy and despite the fact that they spoke little to no english they opened Modern Pastry Shop. Customers would help them with deliveries since they didn't have a car in the beginning and friends would help to translate. If you grew up in Hartford in the 60s & 70s you probably had our grandmother give you a cookie when you came in with your parents or a job when you got older. Our parents later got involved and grew the business' presence online & through shipping.
As the third generation owners we still maintain the traditions and quality that gave our business life 60 years ago. We are fortunate to have such a loyal staff and customers and are proud to be a part of beautiful milestones in peoples lives. Baby showers, christenings, birthdays, engagements, weddings we get to celebrate though our sweets.
The Modern Way
Quality ingredients and attention to detail
---
We pride ourselves on making the finest desserts to accommodate birthdays, weddings and all your special occasions. We make a large variety of Italian & French pastries as well as almond, butter, fruit filled and chocolate cookies. Our pies, cheesecakes & coffee cakes come in a variety of flavors and are available daily and baked fresh on premises. Specialty items like marzipan fruit, torrone & giuggiulena are featured during the holidays as well as imported candy & sweets from Italy. Come in for a coffee or a cappuccino and relax at our counter.
---
Store hours:
Tuesday-Saturday: 9 AM–4 PM
Sunday: 9 AM–3 PM
Monday: Closed
When writing to us, please allow for 24-48 hours for a response, thank you!
Modern Pastry Shop
422 Franklin Avenue
Hartford, CT 06114